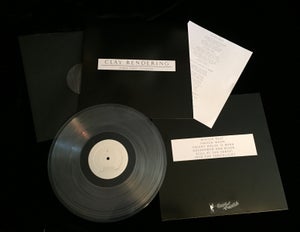 $

15.00
Clay Rendering "Fires That Cleanse"
Possibly the most minimal and intimate release by the band thus far, "Fires That Cleanse" is a record for sleepless nights. Earlier this year, Hospital Productions released this 6 song EP as a special packaged cassette in an edition of 25 copies. Now the duo brings it to their own Gods of Tundra label with a limited hand assembled vinyl version. Focusing on the atmospheric side of things, "Fires That Cleanse" acts as a counterpoint to this summers' "We Are Aware" EP on Hospital. Quiet and raw, open and bare, culminating in death acceptance. Walk away from the sun into the torchlight, we'll start the fires that cleanse the cage.
Clear vinyl. Hand assembled covers. Edition of 300. Includes download code.
please allow up to 2 weeks for shipping.